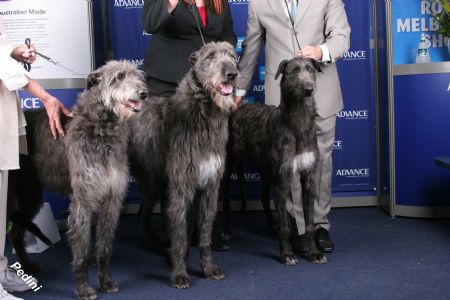 ​Hello and welcome to our website.
​We hope you enjoy the pages and as this website is being renewed,,, it takes time to put on new Deerhounds and pedigrees.
Chris and Richard are committed to the Deerhound Breed.
​Thats Type and Temperment !!
Have a good look around and call us on 0427700816 if we can assist.
Thank you.
Chris and Richard
Achievements
Deerhound Breeder of the Year (D.C.V) from 2005 to 2012.

Deerhound Breeder of the Year (DOLPS) from 2009 to 2012.

Number 2 All Hounds Breeder of Australia (DOLPS) 2009.

Owner and Exhibitor of Deerhound of the Year (D.C.V) 2003 to 2005 then 2007 and 2010.

Owner and Exhibitor of Runner Up Deerhound of the Year (D.C.V) 1999, 2000, 2006, 2007, 2009 and 2010

Owner and Exhibitor of Deerhound Puppy of the Year (D.C.V) 2001, 2003, 2004, 2006, 2007, 2009, 2010 and 2012

Owner and Exhibitor of Deerhound Junior of the Year (D.C.V) 2004 to 2007, 2010, 2011 and 2012

Breeder of Australia's First Supreme Champion Deerhound 'Supreme Champion Bhealaich Gotta Luv Me'

Breeder of Australia's Number 1 all time winning Deerhound 'Supreme Champion Bhealaich Gotta Luv Me'
Contact Details
Richard Kesper & Chris Howard
Gembrook., VIC, Australia
Phone : 0427700816
Email :
[email protected]
44521 Visitors